Joie de Vivre is a well-established medical and aesthetics center serving over 5000 patients.
Dr. Robinson and her team treat each individual as a whole, helping each patient to achieve their joy of living. At Joie de Vivre, we offer the latest technologies to improve skin health and to treat illness.
Our goal is to prescribe a balanced approach to inner and outer health and beauty so that our clients may experience the "joy of life." Joie de Vivre's personality has a lot in common with the Bloomington lifestyle experience: fresh, inventive, casual, and focused locally.
Joie De Vivre Medical is located in Archhaven. The office offers a first-class environment for both general medical practice and medical spa treatments.
Dr. Lisa Robinson
Primary Medical Doctor
Dr. Lisa Robinson is a 1997 graduate of Indiana University School of Medicine and completed her residency in family medicine in 2000 in Columbia, South Carolina.  She is a diplomate of the American Board of Family Medicine and is board certified. She is CEO of Joie de Vivre, founded in 2008. She has completed additional training in Age Management Medicine in 2009, and most recently in 2015. For the past 11 years, through her private practice, Dr. Robinson has served her patients with the primary objective being to enhance their lives as individuals by creating space in which she can help each person achieve their most optimal wellness. As medicine is ever-changing, she strives to offer cutting edge technologies to treat disease as well as offer nutrition, herbal, and weight loss solutions to assist patients in thriving in all areas of their lives.
Quinn Harmon, PA
Physician Assistant
Quinn was born and raised in Colorado. She earned a B.A. in Biology and Chemistry from the University of Denver, a Master's in Education from Adams State University, and spent three years teaching science at Center High School. She found her way to the Midwest through her attendance at Butler University where she received a Master's in Physician Assistant Studies. She is passionate about fostering strong patient relationships, providing whole-person care, and lifelong learning. Quinn and her husband, Stefan, live in Indianapolis with their two dogs and too many cats.
Casi Byers
Administrative Assistant
Casi has recently joined JDV, but has been part of Bloomington's medical community for almost 20 years. After several years working in surgery with one of Bloomington's most premier surgeons, Casi decided to pursue a more creative passion of hers and attained a license in cosmetology then subsequently went on to become a hair stylist at a local assisted living home. Now, having followed her roots back to medicine, Casi is a natural as an administrative assistant! She genuinely loves people and caring for our patients!
Casi and her husband, Brad, live in Bloomington with their dog and three cats. They are also practicing being empty-nesters as their daughter Cami is away as a sophomore in college. In her free time, Casi loves going on walks; spending time with friends and family; and indulging in her guilty pleasure: romance novels!!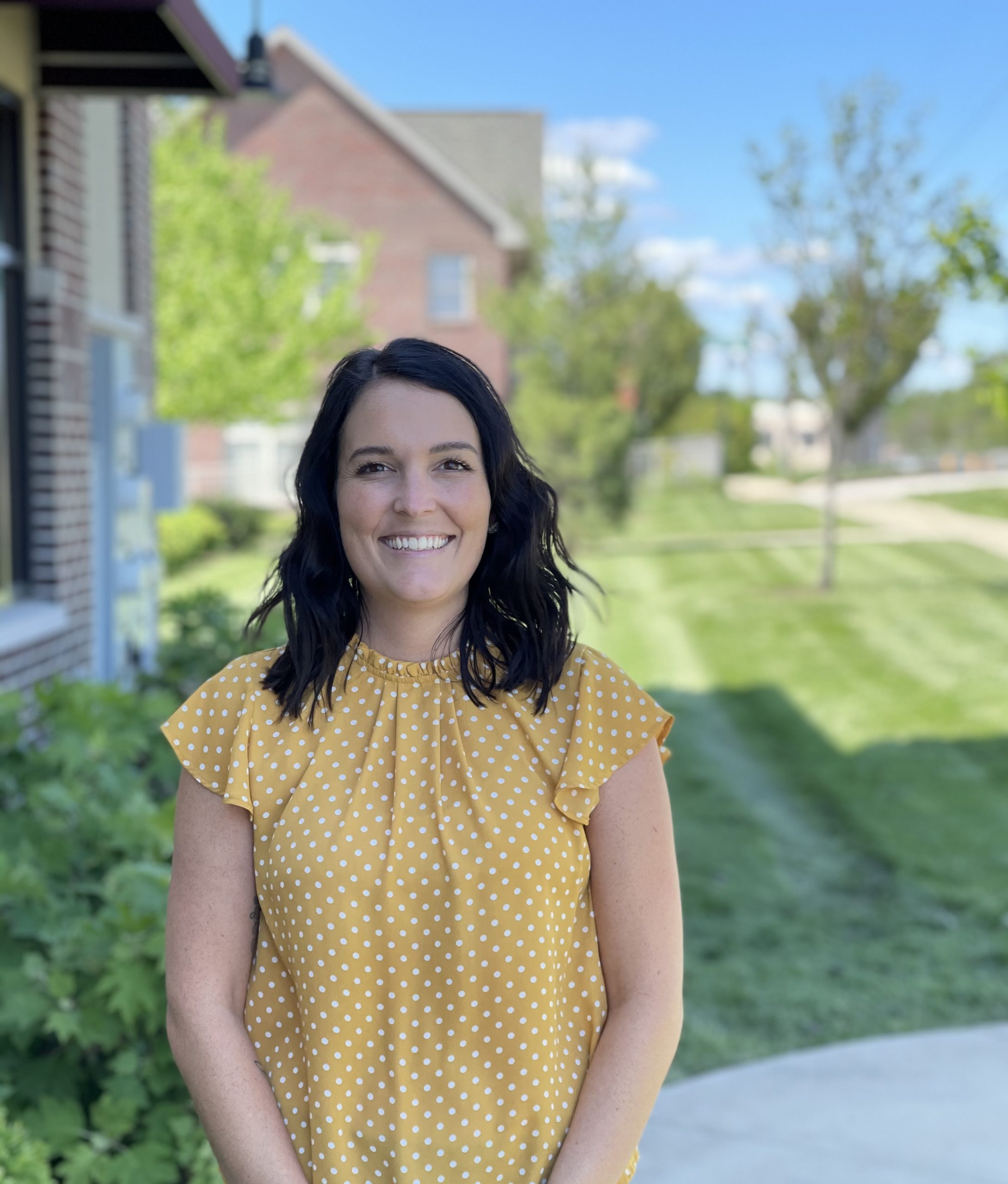 Makenzie Ray
Aesthetician
Born and raised right here in Bloomington, Indiana, Makenzie started her professional career in the dental field, but in 2019 decided to make a change and go to esthetics school. She believes it was the best decision she could've made! Makenzie specializes in facials, dermaplaning, and chemical peels. When she's not working, she enjoys playing softball, hanging out with friends and family, and Jeep cruising. She adds, "I can't wait to expand my knowledge and services at Joie de Vivre Medical."
Laci Caudell, FNP
Family Nurse Practitioner
Born and raised in Mitchell, Indiana, Laci first pursued her passion for nursing at Indiana State University where she graduated in 2004 with her BSN. Starting her career at Bloomington Hospital, Laci eventually found herself in outpatient care, working for the hospital's gastroenterology specialists upon seeking out a more "normal" work schedule ideal for her growing family. Three daughters later, Laci opted to raise the girls at home until they were all in school. In 2015 Laci joined Joie de Vivre, where she felt like she could find a balance between focusing on her career while also being able to spend time with her family.
Laci lost her dad, Michael "Duke" Mann, to cancer in 2016. Duke was someone who always looked forward and lived each day without regrets. He was a dedicated, hardworking, middle-class man who taught his daughter to never give up her dreams and to view her failures as stepping stones to the finish line. On June 2, 2020, four years to the day after losing her father, Laci crossed a finish line by graduating from Purdue University with her master's degree. Laci is now a board certified family nurse practitioner and is happily accepting new patients.
Laci and her husband, Tyler, live with their daughters; Rhaegan, Lilly, and Emma in Williams, Indiana along with Joffus, a very timid yet cuddly bull mastiff and two cats; Jax and Bella. When she's not in the office, you can typically catch Laci and Tyler at one of their girls' sporting events or hanging out at their home, the Caudell Compound where they enjoy riding 4-wheelers, swimming, and sledding.
Jessie Headley, CMA
Certified Medical Assistant
Jesse has been in the medical field for over 10 years, mostly as a phlebotomist and now a Certified Medical Assistant (CMA). Jesse's passion for being in this line of work stems from his battle with leukemia at the age of 16. He had 3 rounds of chemo and a bone marrow transplant (for which his mom was the donor). Jesse has also had both of his hips replaced from side effects of all the medications during his treatment. He is now 16 years cancer free!
​Jesse was a born and raised a Hoosier and grew up on a small horse farm just outside Ellettsville. He was a 4-H member of Monroe County for 10 years, where he showed his horse, Chief. These days Jesse is very involved with the local Jeep club (Jeeps Only!) which he started with his aunt. The club offers cruises, Jeep shows, benefits, and of course Off-roading! He is also a member of the Monroe County 4×4 Club. Jesse has been married to his wife, Jen, for 9 years and they have a 4 year-old daughter, Juliet. On the weekends, you can usually catch them in the Jeep enjoying the outdoors! When Juliet is not in the Jeep, she can be found riding her pony "Cowboy!"
Nikki Richardson, LME
Medical Esthetician
Nikki Richardson, LME began her career in the beauty industry 13 years ago as a consultant and then business manager for Clinique. Wanting to deepen her knowledge and practice, she took her passion for skin physiology to the next level and in 2012, became a licensed esthetician. She later joined Joie de Vivre in August of 2015. She continues education to stay up to date on the newest beauty trends and treatments as she is passionate about creating noticeable differences in skin. Nikki lives in Bloomington and graduated from IU with BA's in Psychology and Human Development & Family Studies. She is most passionate about pursuing joy and living abundantly and whole-heartedly. She loves learning and experiencing anything new usually no matter the subject. She practices yoga, meditation, and Reiki and is currently pursuing learning archery because why not? 
Mariah Lane
Medical Assistant
Mariah is from Spencer, Indiana and has worked in the medical field in Bloomington for 6 years. She is extraordinary as a medical assistant to our providers, but she got her start as a phlebotomist and is also experienced as a receptionist. Caring for patients is one of her greatest passions and it shows through her kind and compassionate demeanor. Mariah is a dog mom to 2 dachshunds, Vienna and Winnie, who are her most favorite beings on earth! She and her girls spend a lot of time playing outside and Mariah admits to treating them to Pup-Cups maybe a little more often than she should! In her free time Mariah paints, does pottery, and tends to her mannnyy plants. She loves attending all of the festivals in Bloomington and spending time with her friends and family. 
Morgan Chitwood, RN
Registered Nurse
Morgan is from Bloomington, IN and received her first degree in exercise science from Indiana University. She then went on to pursue a BS in Nursing at Marian University in Indianapolis. She has worked in the hospital setting the majority of her medical career, 6 years to be exact, but is excited to join a family practice and be able to more closely connect with patients. She currently lives in Greene County with her husband, Cole, and two fur babies, Harlee and Nala. In her free time, she likes to spend time with family and friends, shop, do renovation projects on her house, and travel with her husband.  "Being a nurse is one of my greatest accomplishments and I am excited to expand my knowledge and learn and grow with Joie de Vivre!"